PITCH
A pitching forum for documentary features, shorts and television series.
The 14th annual Doc Edge Pitch is open for submissions from local and international filmmakers currently working on a project, seeking financing and/or co-production opportunities.
Doc Edge Pitch 2020 will take place in Auckland on Friday, 29 May as part of the industry event, Doc Edge Forum, held during Doc Edge Festival.
Up to 15 projects will be selected. The successful finalists will be given the opportunity to develop their projects, trailers and pitching skills through a series of Doc Edge Clinics with bespoke mentoring from industry professionals.
The finalists will pitch their projects to a panel of local and international decision-makers.
Doc Edge Pitch seeks projects:
with international appeal
challenging innovative subject matter
with co-production potential
that push creative boundaries
have multi-platform potential (highly encouraged)
Applications are open for the following categories:
Feature Documentary (over 40')
Short Documentary (up to 39')
Documentary Television Series
Deadlines:
Early bird: 12pm on Friday, 6 March 2020
Regular:12pm on Monday, 30 March 2020
Successful applicants will be notified on or before Tuesday, 14 April 2020.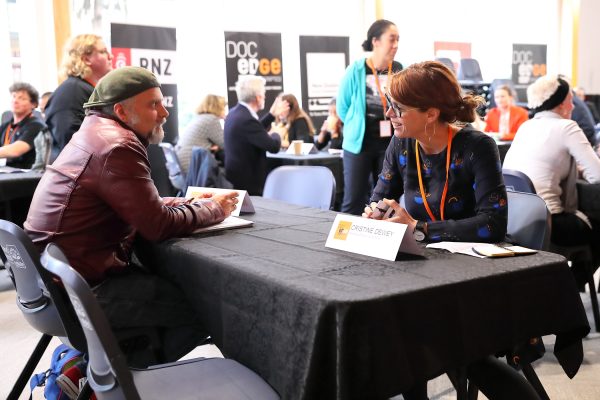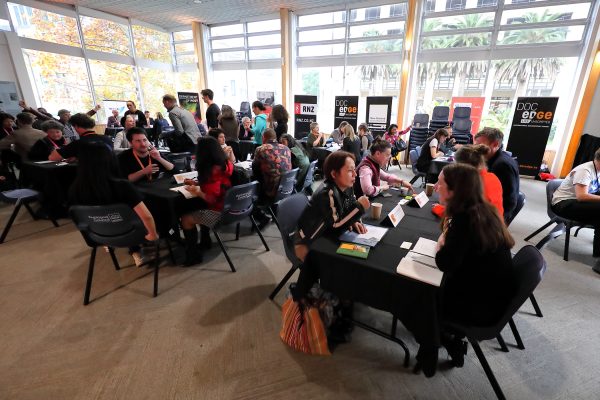 A perennial favourite, Date-a-Doco is a series of fast-paced, speed-dating-type meetings between decision makers, pitching finalists and selected filmmakers. This is a great way to make personal connections and obtain project-specific advice. Some positions will be available via application. More details will be available in early 2020.
Selected finalists 2019:
The Arctic Corridor
,
Harry Wynn
The Big Song
, Rebecca Tansley and Pamela Harvey-White
The Blue World to Come

,
James Nikitine
The Bushwhackers: A Love Story
,
Justin Hawkes and Tara Riddell
Exhale
, Justine Simei-Barton
Kaimanawa
, Jenny Gao and Mia Maramara
LOIMATA – As one star falls a family rises
, Jim & Anna Marbrook
O'TOWN, Rupert Mackenzie and Eugene Carnachan
Out of the Ashes
, Piripi Curtis
A Place to Stand
, Tess Hutson and Jane Robertson
Sing It To My Face
, Jess Feast
U.S. and Them
, Magnolia Lowe
2019 Local Panellists
Amie Mills Head of Funding, NZ on Air 
Brian Holland Producer, Magnetic Pictures
Cass Avery Head of Development, Augusto 
Dale Corlett Head of Talent Development, NZ Film Commission 
Fergus Grady Acquisitions Manager, Limelight Distribution 
Jill Macnab General Manager, Vendetta Films 
Kevin Gordon Sales Manager, Rialto Distribution 
Leanne Saunders Head of Production and Development, NZ Film Commission 
Rachel Antony CEO, Greenstone TV 
Vicki Keogh Commissioner of Factual, TVNZ
2019 International Panelists
Bernadine Lim Head of Documentary, Screen Australia 
Cristine Dewey Managing Director, ro*co films (USA)
Dana Merwin Program Officer, IDA (USA)
Fiona Gilroy Content Sales & Distribution Manager, Flame Distribution (Australia)
Kaye Warren Acquisitions Manager, SBS Australia 
John Walker Independent Director (Canada)
Kimberly Dilts Impact Producer, Film Ignite (USA)
Martin Pieper Head of Aktuelles – ARTE, ARTE/ZDF (Germany)
Natsu Kawakami Assistant Commissioning Editor, NHK (Japan)
Orly Ravid Founder and Co-Executive Director, The Film Collaborative (USA)
Stephen Oliver Commissioning editor factual, ABC Australia
The winner of the Best Pitch 2019 was announced at the Doc Edge Awards on 31 May 2019.
Congratulations to Tess Hutson and Jane Robertson and their project A Place to Stand.
Congratulations also to Justin Hawkes and Tara Riddell, whose project The Bushwhackers won the AIDC prize.
Prizes
Doc Edge Pitch 2019 prizes comprised of:
Doc Edge Travel Award
⦁ IDFA Guest Pass (IDFA Academy, Film Screenings, Forum Day Pass)
⦁ DOK Leipzig Industry Pass
⦁ Travel Support from NZFC
Park Road Post – $5,000 post-production services
The Sound Room
⦁ Composition of bespoke music and full 5.1 sound mix for trailer or teaser
⦁ Free usage of extensive music library
⦁ Free music/sound consultation
Antenna Film Festival Pass
Soar Print – $500 print collateral
PREVIOUS BEST PITCH WINNERS
2019 – Tess Hutson & Jane Robertson | A Place to Stand
2018 – Francis Baker | Bombs
2017 – Jack Nicol | No. 1 Stand
2016 – J.Ollie Lucks & Julia Parnell | Wilbur Force
2015 – Robyn Paterson | In Zone
2014 – David Farrier | Tickled
2013 – Pietra Brettkelly | A Flickering Truth
Other successful Doc Edge Pitch projects include: For My Father's Kingdom; High School; The Kiwi, The Knight and The Qashqai; Jessica's Tree; The Topp Twins:Untouchable Girls; Hip Hop-eration; Relocating Mountains; Loving in Limbo; The Price of Peace; An Accidental Berliner; Walk with Me; Te Hono Ki Aotearoa:The Waka for Peace; Brother No. 1; Pictures of Susan; There Once was an Island; Lost in Wonderland; Druglawed.