PITCH
A pitching forum for documentary features, shorts and television series.
Doc Edge Pitch accepts submissions from local and international filmmakers currently working on a project, seeking financing and/or co-production opportunities.
Doc Edge Pitch 2020 will take place 26 and 27 May, with Date-a-Doco running on 28 May. Doc Edge Forum will run 29 May – 1 June.
Finalists have the opportunity to develop their projects, trailers and pitching skills through a series of Doc Edge Clinics with bespoke mentoring from industry professionals.
The finalists will pitch their projects to a panel of local and international decision-makers. Panel members will participate in Doc Edge Pitch remotely. We'll publish their names here as they are announced.
Submissions for Doc Edge Pitch 2020 closed on 6 April.
Doc Edge is pleased to announce the following projects have been selected for Doc Edge Pitch 2020.
Films:
Anonymous, Anonymous Pitch
Gemma Knight, 2D Love
Vanessa Wells, fiftyone
Sam Griffin, The Fight Together
Katherine McRae, Pacific Mother
Amy Taylor, Milked
Petr Lom, We Are the River
Series:
Scott Flyger, Alien Drugs Music
Mandi Lynn, The Luscious Order of Golden Shield Maidens
Jess Feast, Trees & Us
Jessie Casson, What Becomes of Us?
Aditi Sharma, Writing on the Wall
Anthony Costello, The Blue Wall
Prizes
Doc Edge Pitch 2020 prizes comprise:
Doc Edge Travel Award
⦁ IDFA Guest Pass (IDFA Academy, Film Screenings, Forum Day Pass)
⦁ DOK Leipzig Industry Pass
⦁ Travel Support from NZFC
Park Road Post – $5,000 post-production services
The Sound Room
⦁ Composition of bespoke music and full 5.1 sound mix for trailer or teaser
⦁ Free usage of extensive music library
⦁ Free music/sound consultation
Antenna Film Festival Pass
Soar Print – $500 print collateral
Please note: Prizes such as travel awards may be deferred.
PREVIOUS BEST PITCH WINNERS
2019 – Tess Hutson & Jane Robertson | A Place to Stand
2018 – Francis Baker | Bombs
2017 – Jack Nicol | No. 1 Stand
2016 – J.Ollie Lucks & Julia Parnell | Wilbur Force
2015 – Robyn Paterson | In Zone
2014 – David Farrier | Tickled
2013 – Pietra Brettkelly | A Flickering Truth
Other successful Doc Edge Pitch projects include: For My Father's Kingdom; High School; The Kiwi, The Knight and The Qashqai; Jessica's Tree; The Topp Twins:Untouchable Girls; Hip Hop-eration; Relocating Mountains; Loving in Limbo; The Price of Peace; An Accidental Berliner; Walk with Me; Te Hono Ki Aotearoa:The Waka for Peace; Brother No. 1; Pictures of Susan; There Once was an Island; Lost in Wonderland; Druglawed.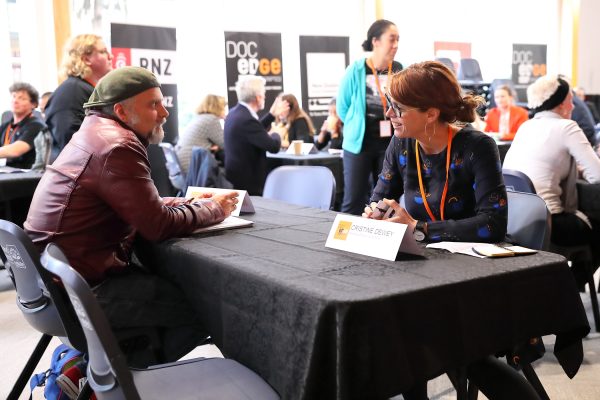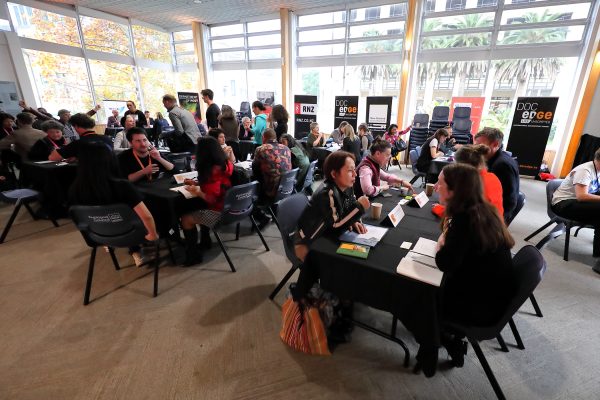 A perennial favourite, Date-a-Doco is a series of fast-paced, speed-dating-type meetings between decision makers, pitching finalists and selected filmmakers. This is a great way to make personal connections and obtain project-specific advice.