PITCH
A pitching forum for documentary features, shorts and series.
Doc Edge Pitch accepts submissions from local and international filmmakers.
Finalists will receive bespoke mentoring from industry professionals to help develop their pitch, and the opportunity to develop their pitching skills in pitch preparation workshops ahead of the finals event.
All submitters will have access to Date-A-Doco, speed-meetings with local and international broadcasters and commissioners, distributors and sales agents, festival directors and programmers, and funders.
Doc Edge Pitch 2021 mentoring and workshops will run online. For the Pitch itself, there will be two separate finals events: an online final for international projects, and an in-person final for NZ projects. Finalists will pitch their projects to a panel of local and international decision-makers.
(All decision makers will attend the international final online; all international decision makers will attend the NZ finals online.)
AWARDS
Prizes awarded at Doc Pitch 2021 include:
Presented by AIDC:
One prize of: 2 x all-access passes for one project to attend AIDC (physical attendance or online),
1 x fee waiver to submit to The FACTory,
4 x nights accommodation twin share in Melbourne.
Presented by Dhaka DocLab:
Four prizes, for projects from the Asia-Paciifc region, of selection to Dhaka DocLab's Asia-Pacific line-up.
Presented by DOK Leipzig:
Two prizes, one for a NZ project, one for an international project, of accreditation and observer access for two people to the DOK Co-Pro Market.
Presented by the New Zealand Film Commission:
One prize, for a NZ project, of travel assistance to attend IDFA.
Presented by Park Road Post:
Two prizes, one for a NZ project, one for an international project, of post-production services: each prize to the value of $5000.
Presented by The Sound Room:
Two prizes, one for a NZ project, one for an international project, of composition and recording services: each prize to the value of $2000.
2021 FINALISTS
The following projects have been selected for Doc Edge Pitch 2021. Congratulations to the teams.
Afloat, submitted by Arkus
After Trauma, submitted by David Elliott Jones
An Insignia of a Forced Winter, submitted by Ajimesh Saha
Being Chloe, submitted by Mark McNeill
Driving into the Storm, submitted by Shan-Shan Liu
Fathers & Sons, submitted by Rich Humphreys
Freedive, submitted by Joseph McAlpine
Girls Girls Girls, submitted by Lilian Sumner
Iggy in Love, submitted by Tom Burstyn
I of the Water, submitted by Kimberlee Bassford
Munni, submitted by Tahrima Khan
Off the Rails, submitted by Peter Day
Operation Rambu, submitted by Morgan Leigh Stewart
Ratman and the Whales, submitted by Kim Webby
Richard and the Windmill, submitted by Peter Ireland
Sanguma, submitted by Paul Wolffram
Seasick, submitted by Simon Mark Brown
Shoe City, submitted by Jim Marbrook
Siouxsie & The Virus, submitted by Gwen Isaac
Sweet Summer Tangelos, submitted by Ke-liang Li
The Black Hand, submitted by Adam Grossetti
The Climate Canary, submitted by Vanessa Wells
Women's World, submitted by Louie Wang-Holborn
Pitch preparation workshops for finalists will run on Saturday 13 March and Saturday 10 April. Doc Edge Pitch Finals will run live and online on Wednesday 21 April  (for finalists in NZ) and online on Thursday 22 April (for all finalists not in NZ). Date-A-Doco will run online on Friday 23 April.
If you have any questions, please email our Industry team:
[email protected] and/or [email protected]
PREVIOUS BEST PITCH WINNERS
2020 – (International) Yihwen Chen and Catherine Chan | Shh…Diam
(NZ) Abigail Egden and Gemma Knight | 2D Love
2019 – Tess Hutson & Jane Robertson | A Place to Stand
2018 – Francis Baker | Bombs
2017 – (film) Jack Nicol | No. 1 Stand
(series) Jazz Thornton | Jessica's Tree
2016 – J.Ollie Lucks & Julia Parnell | Wilbur Force
2015 – Robyn Paterson | In Zone
2014 – David Farrier | Tickled
2013 – Pietra Brettkelly | A Flickering Truth
Other successful Doc Edge Pitch projects include: For My Father's Kingdom; High School; The Kiwi, The Knight and The Qashqai; Jessica's Tree; The Topp Twins:Untouchable Girls; Hip Hop-eration; Relocating Mountains; Loving in Limbo; The Price of Peace; An Accidental Berliner; Walk with Me; Te Hono Ki Aotearoa:The Waka for Peace; Brother No. 1; Pictures of Susan; There Once was an Island; Lost in Wonderland; Druglawed.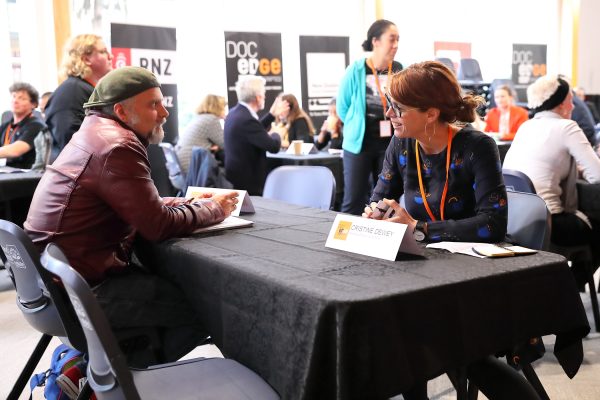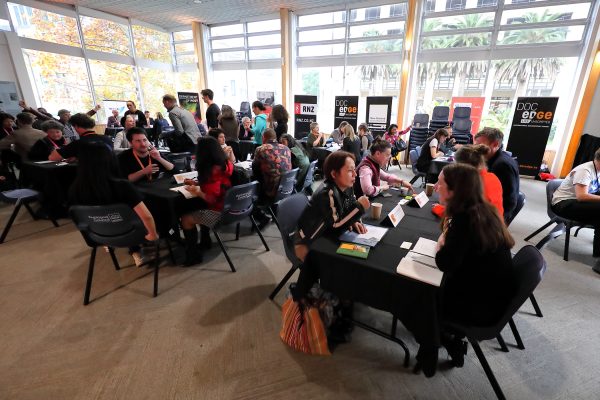 A perennial favourite, Date-a-Doco is a series of fast-paced, speed-dating-type meetings between decision makers, pitching finalists and selected filmmakers. This is a great way to make personal connections and obtain project-specific advice.
All submitters to Doc Edge Pitch gain access to meetings with decision makers during Date-A-Doco.